Divine Mercy - Church of The Transfiguration Catholic Church
Jul 22, 2021
Church Tour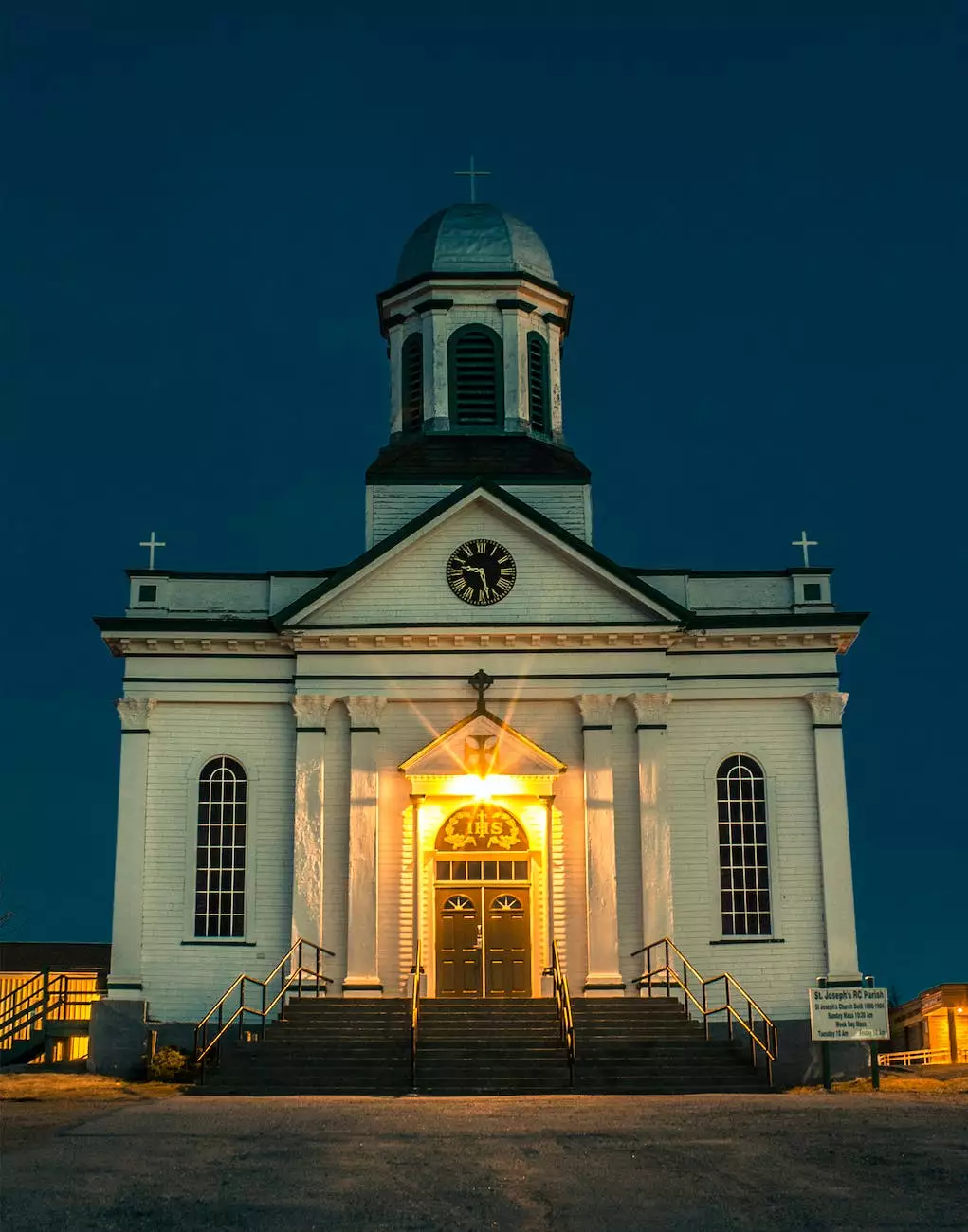 Welcome to Divine Mercy
Discover the grace, love, and mercy of God at Church of The Transfiguration, a Catholic Church located within the premises of St Mark's United Methodist Church. Our vibrant and inclusive faith community is devoted to following the teachings of Jesus Christ and spreading the message of Divine Mercy to all.
Our Beliefs and Mission
At Divine Mercy, we believe in the power of God's love and mercy to transform lives. We strive to create an environment where individuals can experience spiritual growth, find solace, and forge meaningful connections with others.
Worship with Us
Join us for inspiring and uplifting worship services, where we come together as a community to praise and honor God. Our liturgies are centered around the Eucharist and are celebrated with reverence, joy, and devotion.
Sacraments and Prayer
Experience the grace of the sacraments, including baptism, reconciliation, and Holy Communion. Our dedicated priests and pastoral team provide guidance, support, and opportunities for personal prayer and spiritual reflection.
Community Service and Outreach
As followers of Christ, we are called to serve others and make a positive impact in the world. Our church actively engages in various community service and outreach programs, partnering with local organizations to address the needs of the less fortunate and marginalized.
Education and Spiritual Growth
We value lifelong learning and offer a range of educational opportunities for individuals at every stage of their faith journey. Attend our engaging Bible studies, spiritual retreats, and workshops to deepen your understanding of the Gospel and grow in your relationship with God.
Youth and Family Ministry
Nurture the faith of your children through our vibrant youth and family ministry programs. We provide a safe and supportive environment where young individuals can explore their faith, build strong moral foundations, and develop lifelong friendships.
Become Part of Our Faith Community
Regardless of your background or where you are on your spiritual path, we welcome you to join us at Church of The Transfiguration. Experience the warmth and acceptance of our community as we journey together in faith, spreading the message of God's mercy and compassion.
Service Times
Sunday Mass: 8:00 AM, 10:30 AM
Weekday Mass: Monday to Friday - 7:00 AM
Sacrament of Reconciliation: Saturday - 4:00 PM to 5:00 PM
Contact Us
For more information about Divine Mercy and the programs we offer, please contact our church office:
Phone: (###) ###-####
Email: [email protected]
Address: 123 Main Street, City, State, ZIP
Connect with Us
Stay updated with the latest news, events, and inspirational messages from Divine Mercy by following us on social media:
Find Us
We are conveniently located within St Mark's United Methodist Church. Use the map below for directions:
Join Us in Faith and Fellowship
Come experience the Divine Mercy at Church of The Transfiguration Catholic Church, a welcoming and inclusive faith community dedicated to serving God and others. We invite you to connect with us today and embark on a journey of spiritual growth, community, and love.