Welcome to St Mark's United Methodist Church - By Bible Passage
Oct 23, 2021
Church Habits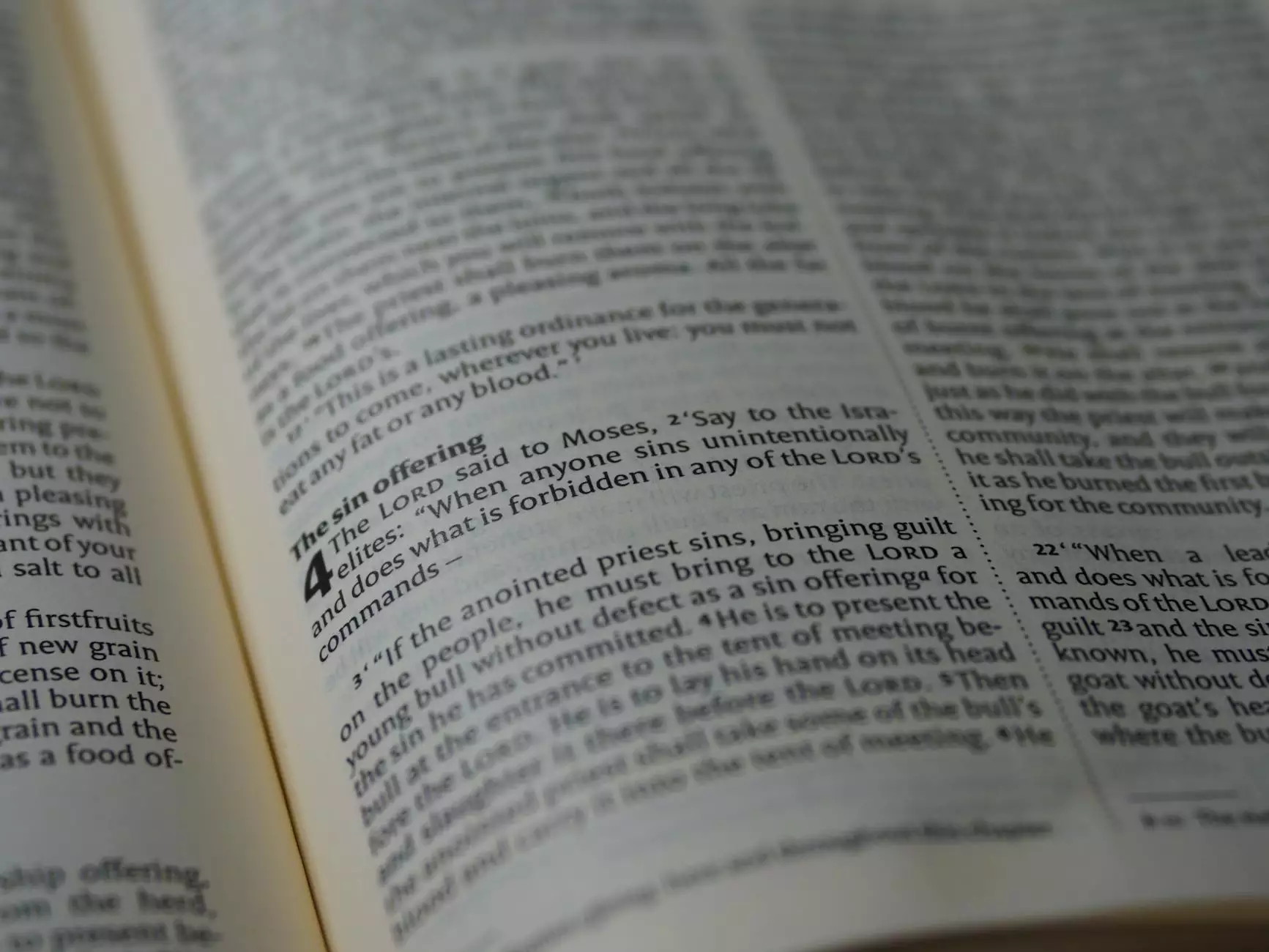 Exploring Bible Passages with St Mark's United Methodist Church
At St Mark's United Methodist Church, we strive to provide a comprehensive collection of detailed content on various Bible passages. As a community rooted in faith and beliefs, we understand the importance of deepening our understanding of the Word of God. Our dedicated team of experts and scholars have curated a rich and diverse source of information to help you explore and reflect upon the teachings found within the Bible.
Understanding God's Word
The Bible is a unique and sacred text that holds vast knowledge, wisdom, and guidance for those seeking spiritual growth and enlightenment. By delving into the depths of various Bible passages, we aim to equip individuals with the tools necessary to comprehend and apply these teachings to their daily lives.
Comprehensive Collection of Bible Passages
Our website provides an extensive range of Bible passages, catering to all individuals seeking to deepen their understanding of their faith. We have meticulously categorized various passages, making it easier for you to navigate through different themes and teachings.
1. Old Testament Passages
Explore the profound teachings found within the Old Testament, which encompasses numerous historical accounts, prophetic messages, and timeless wisdom. From Genesis to Psalms, and from Isaiah to Malachi, our detailed content elucidates the lessons present within these sacred texts.
2. New Testament Passages
The New Testament offers a perspective on the life and teachings of Jesus Christ, the cornerstone of the Christian faith. Dive into the Gospels, Epistles, and the book of Revelation, as our comprehensive content sheds light on the transformative messages of love, redemption, and salvation.
3. Book-by-Book Exposition
In addition to categorizing passages, we also provide a book-by-book exposition of the Bible. For those who wish to gain a deeper understanding of the context and content of different books, our comprehensive analysis will help illuminate the intricacies and teachings within each book.
Unleash the Power of Scripture
The Bible has an incredible ability to touch hearts and transform lives. By regularly engaging with and studying Bible passages, you can unleash the power of Scripture in your own spiritual journey. Let the wisdom and lessons contained within these sacred texts guide you towards a deeper connection with God and a more fulfilling life based on faith and understanding.
Join Our Community
St Mark's United Methodist Church is more than just a website; it is a vibrant community of individuals united by their faith and commitment to spiritual growth. By becoming a part of our community, you will have access to a supportive network of fellow believers and resources that will aid you in your journey of exploring Bible passages and understanding God's teachings.
Engage in Meaningful Discussions
Connect with like-minded individuals within our community and engage in enriching discussions centered around Bible passages. Share your insights, ask questions, and learn from the diverse perspectives found within our community.
Attend Engaging Events
Participate in various church events, such as Bible study groups, lectures, and workshops, to deepen your understanding of the Bible and build connections with fellow believers. Our events are designed to foster growth, foster friendships, and create an environment where faith can flourish.
Find Guidance and Support
Our experienced pastors and faith leaders are here to provide guidance and support as you navigate your spiritual journey. Whether you have specific questions about Bible passages or need someone to lean on during challenging times, our community is here to offer assistance and care.
Experience the Power of Bible Passages at St Mark's United Methodist Church
Embark on a transformative spiritual journey by exploring the extensive collection of Bible passages available at St Mark's United Methodist Church. Whether you are a lifelong believer, a seeker, or simply curious about the teachings of the Bible, our comprehensive content is here to inspire, enlighten, and guide you.
Join our community today and immerse yourself in the timeless wisdom of the Bible. Let the power of Scripture shape your faith and illuminate your path towards a more meaningful relationship with God.